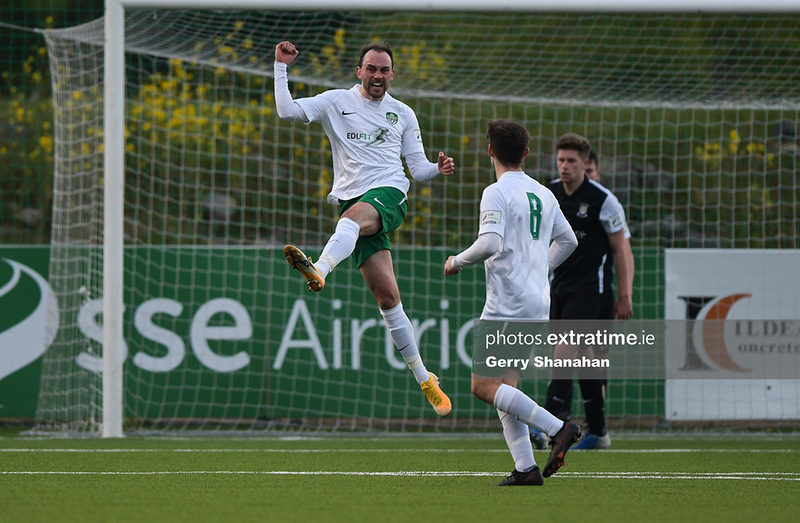 Cabinteely FC v Athlone Town Match Report
By Kevin Dooney
Athlone Town 1 Cabinteely FC 2
For the second year in a row, a Cabinteely number 12 named Barnes scored to help Cabo take three points in Athlone. On Friday, it was Niall Barnes' turn as the previous shirt wearer Shane found himself on the losing side of a highly entertaining game in the Midlands.
Both teams entered the match in contrasting form with the 'Town unbeaten in their first five sitting atop the First Division while an injury-hit Cabo squad were looking for a return of the form that saw them win their opening two matches.
On a still night under blue skies, the hosts started brightly with Dan Blackbyrne putting in a visiting captain's performance at centre back and clearing all around him. Wide players looked a threat with Adam Wixted and James Doona cutting in from the right and left respectively but they were unable to threaten away goalkeeper Adam Hayden in the opening exchanges.
The home teams' best chance of the half came on 22 minutes when Kurtis Byrne was in space in the middle of the Cabo box after a quick free-kick found Adam Wixted on the right flank. Hayden however reacted quickly to tip the striker's right-footed effort over the bar.
Despite Athlone being on top, the White and Green's did look a threat on the break with Marty Waters twisting and turning to cause great discomfort in the home defence. Micheal Schlingermann's quick reactions on the half-hour mark saw him save at close range when Waters found himself through on goal. Athlone did still offer plenty of threat with Kurtis Byrne often taking up good positions in the box but just as often not making solid contact with his shots.
Cabo's efforts on the break paid dividends on the stroke of half time as Ben Hanrahan's ball from the right was cleared by Cantwell at the front post only to find Niall Barnes who had time to take a touch and finish with confidence on the half volley to register his first goal for the club.
The second period followed the pattern of the first with Athlone applying pressure on the away goal once more with Kurtis Byrne often finding himself in good positions yet unable to make the most of his opportunities. The visiting defence, with Eoin Massey and Mitchell Byrne coming into the squad, kept their shape and discipline throughout.
Cabo did show their own promise on 53 minutes when Marty Waters slipped in an on-rushing Ben Hanrahan, Schlingermann was once again alert to the danger, coming quickly off his line to save Hanrahan's attempt.
Athlone's best chance to equalise came soon after on 55 minutes when James Doona's corner was flicked on by Byrne at the near post before sailing untouched through the six-yard box to find Cantwell open at the back post. The centre back failed to make good contact and sent the ball into the side-netting. The Westmeath outfit continued to apply the pressure with Hayden called on to make two saves in quick succession. Firstly, he denied Byrne with his feet from close range after a Wixted back heel played the striker through on 67 minutes. Hayden was in action a minute later with James Doona forcing a low save after good build-up play.
The Midlanders would rue these missed opportunities as Hayden's distribution was again accurate to find Niall Barnes on the left-wing. Barnes passed to Labutis who played a short ball to Ben Hanrahan close to thirty yards out with his back to goal. Hanrahan used his first touch to create space and turn and with his second unleashed a thunderbolt into the top right corner. A goal perhaps against the run of play but of such quality that few could begrudge it.
Athlone efforts were rewarded as they pulled a goal back ten minutes later when Derek Daly's long ball caused confusion at the heart of the Cabinteely defence. With Adam Wixted applying pressure Dean Casey was unlucky to see the ball rebound off him and into his own net. The next ten minutes made for nervy watching for the Cabo faithful as Athlone continued to look for an equaliser. The away rear-guard, which had been tested in recent weeks, stood strong. Jordan Payne's ability to win two free kicks and Marty Waters' hold up play were crucial for Cabo as they used all their experience to keep the ball away from Athlone and secure a very welcome three points for the side.
Next up Cabo will return to Stradbrook where they will take on Cobh.
Pat Devlin can take great pride in the effort of the full extent of his squad and enjoy watching Hanranhan's strike on repeat. One that those who were lucky enough to witness it won't soon forget.
Cabinteely FC: Adam Hayden; Eoin Massey, Daniel Blackbyrne (c), Mitchell Byrne, Dean Casey; Jordan Payne, Zak O'Neill, Vilius Labutis (Alex Aspil 76'), Niall Barnes; Kieran Marty Waters, Ben Hanrahan (Eoin McPhillips 76').
Subs not used: Ben Clark, Deane Watters, Conor Knight, Joe Hyland, Sean McDonald.
Athlone Town: Micheal Schlingermann, Oisin Duffy (Brandon McCann 72'), Derek Daly, Kilian Cantwell, Dylan Hand; Adam Wixtead (Jack Watson 90'), Daniel McKenna, Jamie Hollywood, James Doona; Kurtis Byrne (c), Shane Barnes
Subs not used: Kayleum Rice, Scott Delaney, David Brookes, Jonathan Carlin, Tumelo Tlou, Tristan Noack Hofmann, Stephen Meaney
Booked: Kilian Cantwell (26'), Daniel McKenna (69'), Derek Daly (86')
Referee: Alan Carey