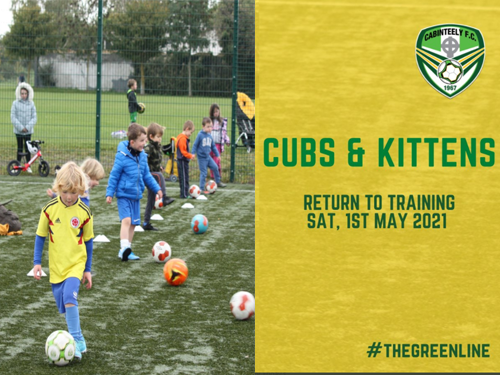 Action begins again for our youngest members!
It's with a hop, skip and a jump that we can confirm that our Cubs and Kittens will be returning to training on Saturday, May 1.
We can't wait to see our future stars back in action in Kilbogget. More news later. At this time we're looking to first get all our existing members back playing before we open for any new members, but do keep an eye on the site and the club's social media outlets.
With the FAI, we do ask that all players, parents and coaches should be familiar with the Association's 'Safer Return to Training' protocol. Please do take a little time before May 1 to familiarise yourself with the relevant elements of the protocol.
At the time of writing, we can't predict for sure if the club shop will be open for your new kit by May 1 but, again, do keep an eye on things for any further updates.
Looking forward to seeing you all in a couple of weeks!