By Kevin Dooney
Bray Wanderers 3 Cabinteely FC 0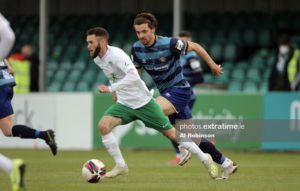 They say familiarity breeds contempt, but with a second 3-0 defeat in as many outings to the Carlisle Grounds, Cabinteely are definitely aware of the Wanderers' threat.
While both teams came into Friday's match hoping to build on last week's wins, Cabo endured a difficult night as Bray ran out comfortable winners.
The away side did start brightly and had the first chance of the game when, on six minutes Jordan Payne's ball into the box found Eoin McPhillips in space. But the midfielder could not make sufficient contact to turn the ball towards goal.
The home team did not take long getting into the game either. On eight minutes, Brandon Kavanagh's dinked ball found Ryan Graydon in the visitors' box. Graydon's header square found Luka Lovic who was too close to Adam Hayden to get his effort past the keeper.
The Wanderers' efforts did come good just two minutes later. After Graydon had won a free kick, Conor Clifford's right-footed effort came off the post to find an open Dylan Barnett in the box. The full-back had time to take the ball on his chest and fire left footed into the goal.
Cabo found themselves two down soon after on 16 minutes. Kavanagh's chipped ball down the left-wing freed goal-scorer Dylan Barnett. His cross found Richie O'Farrell stooping to head home a low header past Hayden from just over six yards out.
The Wicklow outfit looked threatening for the rest of the half with both Barnett and O'Farrell having chances to add to their tally, but the opposition weathered the storm through to half time.
A triple half time substitute for the visitors saw Alex Aspil, Deane Watters and Ben Hanrahan all enter play at the expense of McPhillips, Conor Knight (on his full senior debut) and Niall Barnes.
Bray used the break to bring Gary Shaw on for Luka Lovic who was perhaps lucky to still be on a pitch after a challenge on Dean Casey could have seen him awarded a second yellow just before the interval.
Cabo did come into the game more in the second half with Dean Casey in particular looking threatening in a more advanced role on the left side. The shift to three at the back with more attacking wingbacks gave the side more of an attacking edge.
While this threat never truly troubled net-minder Brian Maher, the Seagulls were able to effectively end the came as a contest just over fifteen minutes from the end. Barnett's low free kick was not dealt with in the Cabo box and ultimately fell at the feet of Shaw who made no mistake in finishing from close-in.
Cabinteely will hope to regroup before next Friday night's visit of Limerick's Treaty United to Stradbrook.
Friday's fixtures will bring an end to the first round of fixtures and Cabo will be search for an all-important win to continue their playoff push.
Bray Wanderers: Brian Maher; Mark Byrne, Andrew Quinn, Aaron Barry (c), Dylan Barnett; Luka Lovic (Gary Shaw 46'), Conor Clifford, Richie O'Farrell, Ryan Graydon; Brandon Kavanagh (Glen Hollywood 89'), Joe Doyle (Stephen Kinsella 84').
Subs not used: Kian Clarke, Jack Ross, Dean O'Shea, Cian Maher, Toby Owens.
Booked: Luka Lovic (40')
Cabinteely FC: Adam Hayden; Mitchell Byrne, Daniel Blackbyrne (c), Luke McWilliams, Dean Casey (Joe Hyland 88'); Jordan Payne (Jem Campion 70'), Zak O'Neill, Eoin McPhillips (Alex Aspil half time), Niall Barnes (Deane Watters half time); Conor Knight (Ben Hanrahan half time), Kieran Marty Waters.
Subs not used: Ben Clark, Luke Clucas, Cian Kelly, Lloyd Buckley.
Booked: Daniel Blackbyrne (27') Deane Watters (73').
Referee: Kevin O'Sullivan.