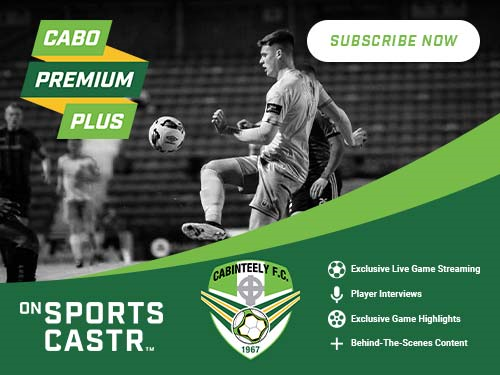 See more and support Cabo live
Cabo trials live stream for seniors
We're delighted to be able to bring you our trial of a live stream of tomorrow evening's League of Ireland First Division home match with Athlone Town AFC.
In this endeavour, we're working with host sportscastr.com (see the 'LFID' icon in the 'Leagues' selection) to bring you the games on your screen as you unfortunately can't get to join us in Stradbrook in the current environment.
See the dedicated Cabo portal and either select the Athlone match or the 'Cabo Premium Plus' button to sign up for the match stream and all other content for three days for just €5.00 of your hard-earned cash.
Let's hope that there's a favourable reaction to this interesting and entertaining initiative (and that we get a good game on Friday!) so that we're encouraged to keep it going in a way that'll help the club out in these trying times.
Stay safe and enjoy!
This certainly is a vision of the future as Cabo makes its way on the field!