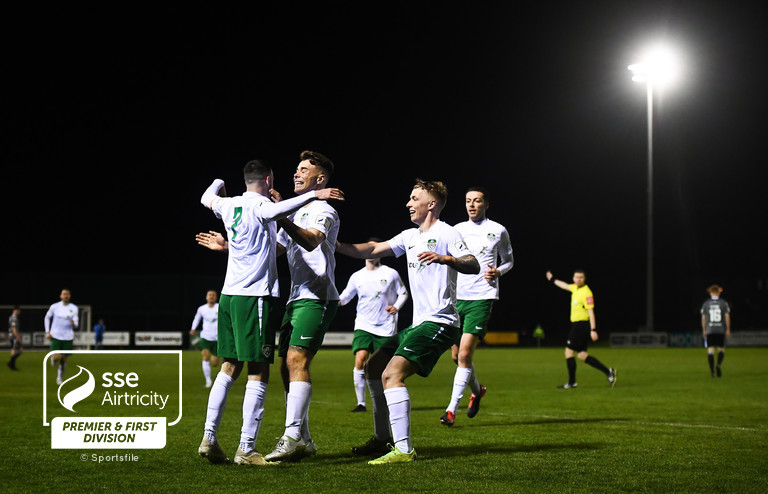 Cabinteely FC 1 Cork City 0 – Match Report
By Kevin Dooney
CABINTEELY FC 1 CORK CITY 0
For the second season in a row, Cabinteely sit top of the SSE Airtricity First Division after two matches.
While you could take pity on any neutrals watching Friday night's affair, Cabo fans can take great satisfaction in the side's hard fought three points against a team heavily tipped to gain automatic promotion this season.
It was the White and Green's first home success at Stradbrook since August 2020; in what was the first ever league meeting with the Rebels.
The first half seemed to follow a distinct pattern as neither side showed much urgency; with the hosts often over hitting long balls resulting in ponderous play; from the Leesiders as they moved the ball at leisure between their back four.
Cork on occasion forced corners for their opposition to deal with but rarely threatened Adam Hayden's goal.
Their best chance came as the result of a lapse in concentration from Dan Blackbyrne, who saw his attempted back pass go out for a corner. Dylan McGlade's delivery was turned towards goal and only to be cleared off the line by a well-placed Dean Casey.
The match did pick up significantly in the second half as Pat Devlin moved to a back four with debutant Luke McWilliams joining Cabo's record appearance holder Kevin Knight in the centre of defence.
The home side's pressing seemed sharper with Zak O'Neill often making away defenders uncomfortable and forcing mistakes.
The increased pressure paid off in the 56th minute as birthday boy Vilius Labutis won the ball back in the visitors' territory. He fed captain Keith Dalton on the right wing, whose cross pinged off Cork defender George Heaven's heel to the net past a stranded Mark McNulty.
City responded by lifting their own intensity levels, yet the home defence remained resolute. McGlade, who made a habit of scoring against Cabo as a Bray player, looked threatening on the left wing but his final delivery was often found lacking.
A series of throw ins from Cian Bargary covered the short distance to the hosts box on the tight Stradbrook pitch and caused problems.
After 68 minutes, substitute Jack Walsh came close with his volley was acrobatically tipped onto the bar by Hayden and cleared by Knight.
Despite needing a goal, the Leesiders often adopted a slow build up approach without showing the edge to really threaten Cabinteely.
Pat Devlin's charges in turn seemed content to let City have the ball in their own half – applying a strong press on occasion to keep the former Premier League and Cup double winners honest.
Thoughts returned to the drama of the 2019 FAI Cup match at the same venue where Cork equalised at the end of extra time as deep in stoppage time. They had several corners although they thankfully came to nought as the final clearance coincided with Alan Carey's final whistle.
Cabinteely FC: Adam Hayden; Daniel Blackbyrne, Kevin Knight, Luke McWilliams; Keith Dalton (Deane Watters 94 mins), Vilius Labutis, (Niall Barnes 76 mins), Zak O'Neill, Alex Aspil (Jordan Payne 84 mins), Dean Casey; Kieran Marty Waters, Sean McDonald.
Subs not used: Mitchell Byrne, Ben Clark, Luke Clucas, Ben Hanrahan, Joe Hyland, Eoin McPhillips.
Booked: Daniel Blackbyrne (7), Keith Dalton (70), Vilius Labutis (76).
Cork City: Mark McNulty; Steven Beattie (Beineon O'Brien Whitmarsh 81), George Heaven, Ronan Hurley; Cian Bargary, Alec Byrne, Cian Coleman, Dylan McGlade, Gearóid Morrissey; Jack Baxter (Cory Galvin 62), Cian Murphy (Jack Walsh 63).
Subs not used: Darragh Crowley, Jonas Hakkinen, David Harrington, Dale Holland, Uniss Kargbo, Gordon Walker.
Booked: Gearóid Morrissey (53) Steven Beattie (60).
Mintplus.ie Man of the Match: Kevin Knight
Referee: Alan Carey.