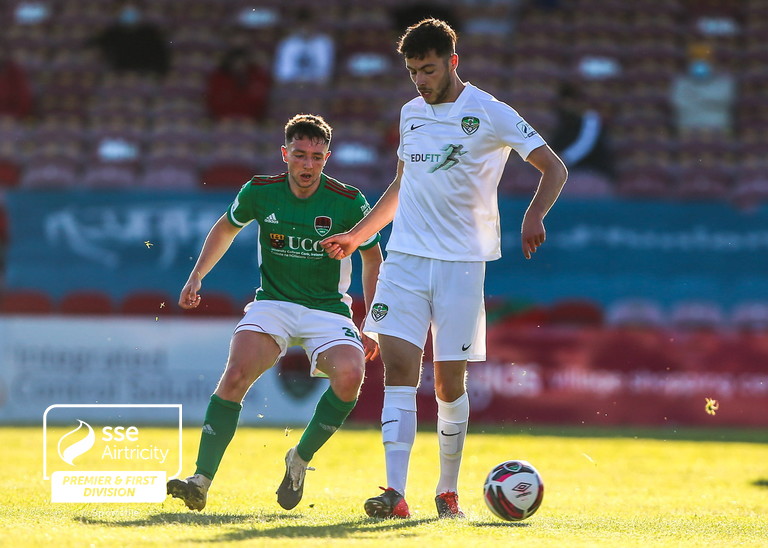 Cabinteely FC v Cork City Match Report
By Kevin Dooney

Cork City 0 Cabinteely FC 2

A classy Cabinteely recorded an historic first-ever away win over Cork as fans were welcomed back to League of Ireland football.
The six hundred fans allowed inside Turner's Cross on Friday for the first time since March 2020 were in a joyous mood walking to the ground in the June sunshine and found their voice early in the first half.
The Leesiders had the better of the early exchanges but never troubled Harry Halwax in front of the Joe Delaney stand. Neither side were able to build any momentum.
City's best chance came after ten minutes when Ronan Hurley's corner was met by Darragh Crowley in a crowded box, but his header drifted harmlessly wide.
While the Munster outfit enjoyed plenty of time in their opponents' half, they still lacked the cutting edge to pull the Cabo rear-guard out of position.
The visitors looked happy to absorb pressure and counter-attack when the chance arose. Ben Hanrahan and Kieran Marty Waters always proved willing runners in behind. Cabo's industry paid off after 36 minutes when Hanrahan squared from the right wing to find Vilius Labutis 22-yards out. The midfielder showed great composure to set himself up with one touch and finish with aplomb across his body to leave McNulty stranded in goal via a deflection.
Cork appeared re-energised in the second half as they searched for an equaliser but still could not trouble Halwax. Once again their best chance came from a corner, this time Cian Coleman headed over.
The Rebels did find spaces out wide but any attempts to square were dealt with by Kevin Knight, Dan Blackbyrne, Luke McWilliams, or Zak O'Neill in the away defence.
As the crowd grew more silent, Cabo's midfield of Alex Aspil and Labutis tried to keep their side ticking over with Niall Barnes and Keith Dalton providing the width in a game largely contested in the middle of the field.
Cork found themselves playing the last few minutes with ten men when Cian Bargary came off worse for wear in a hefty but fair challenge from O'Neill and had used all of their substitute opportunities.
City had one last chance to equalise when Dale Holland found himself through on goal but once again, he squared across goal and the ball rolled harmlessly over the end line.
Cabo put the final nail in Cork's coffin just before the final whistle after some great work by the substitutes.
O'Neill's throw in down the right flank found Sean McDonald who beat two defenders before a low cross found the outstretched toe of Jordan Payne who guided it past McNulty and gave Cabo a fully deserved three points.
Cabo will hit the road again next week as they face Galway for the first time this season looking to build momentum into the second round of fixtures.

Cabinteely: Harry Halwax; Zak O'Neill, Daniel Blackbyrne, Kevin Knight, Luke McWilliams; Keith Dalton (Jordan Payne 82'), Vilius Labutis, Alex Aspil, Niall Barnes; Kieran Marty Waters (Sean McDonald 82'), Ben Hanrahan (Eoin Massey 88').
Subs not used: Kajus Aksamitas, Luke Clucas, Conor Knight, Joe Hyland, Jem Campion, Mitchell Byrne.

Booked: Luke McWilliams (40'), Eoin Massey (90'), Jordan Payne (90')

Cork City: Mark McNulty; Gordon Walker, George Heaven (Steven Beattie 55'), Ronan Hurley; Cian Bargary, Darragh Crowley Alec Byrne, Cian Coleman, Dylan McGlade (Jamie Wynne 79'); Jack Baxter (Dale Holland 79'), Cian Murphy (Beineon O'Brien Whitmarsh 65').
Subs not used: David Harrington, Paul Hunt, Oran Crowe, Issa Kargbo, Jack Walsh.

Booked: Jack Baxter (15'), Darragh Crowley (60'), Cian Coleman (64'), Gordon Walker (90')

Referee: Ray Matthews.