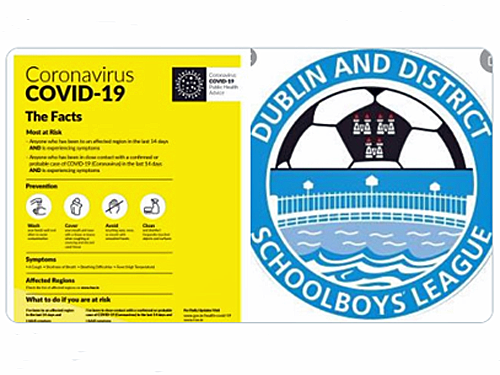 Football and the COVID-19 virus
We all need to be careful and follow the expert advice
In the light of the current COVID-19/Coronavirus situation, please note that the DDSL has recommended that all pre-/post-match handshakes should be suspended at all games going forward.
It is also advised that players/coaches use their own personal re-usable water bottles and not refillable ones being used by multiple persons.
Managers, coaches and parents, please inform all your players and others before the matches at the weekend.
These approaches and any other necessary protective behaviours should be maintained in all club matches and not just the DDSL ones, of course!
The leagues continue to monitor the continuously evolving situation and will be guided by any directives issued from the HSE and FAI and will advise all clubs immediately in that event.
In the meantime, do take a minute to review the HSE Coronavirus pages, how to best protect yourself and, specifically, how to best wash your hands – all good sense.
Let's all carefully co-operate to keep COVID from Cabo!