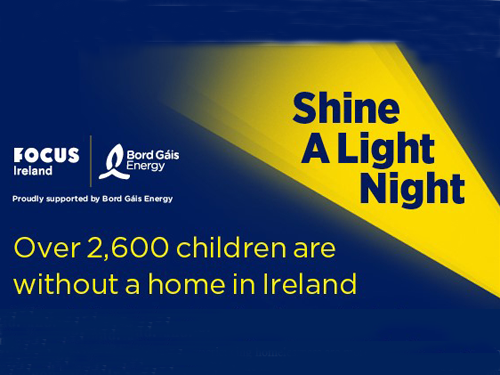 Invitation for Friday, October 16
Let's make it our business to help end homelessness in Ireland
As a result of the Covid-19 impact on communities across Ireland, people experiencing homelessness are more vulnerable than ever before.
Across the country (as at July 31), 8,728 people were homeless in Ireland; of this 2,651 were children. Since the Covid-19 pandemic began in March, Focus Ireland has moved 519 families and 1,119 children out of homelessness nationwide and they need your help to continue their vital services.
The annual Shine a Light Night will be raising funds to tackle the current homelessness crisis, allowing Focus Ireland to help alleviate and prevent further homelessness.
We are sleeping out on Shine a Light Night on Friday, October 16, and we are asking you to join us.
You can make a huge difference in one night in raising awareness and vital funds. We want you to sleep out safely on Friday, October 16, be that in your gardens or homes, and help shine a light on homelessness.
We are aiming to raise €1.3 million to support people experiencing homelessness across the country. We hope you can join us to support on Shine a Light Night.
For further information and to sign up to participate in Shine A Light Night 2020 visit Shine a Light Night or call us at 1850 204 205.
Will you give one night to change a lifetime?