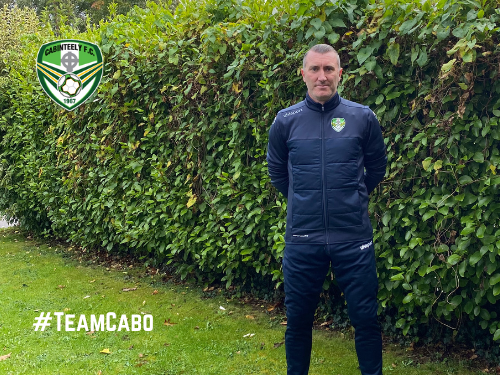 Great new coaching signing for Cabo
Jason Byrne joins Cabinteely FC as Coaching Coordinator
The club is delighted to announce the appointment of Jason Byrne as Coaching Coordinator for our Junior section.
Jason brings to the club twenty years of experience in League of Ireland football in a distinguished career playing for Bray Wanderers, Shelbourne, Bohemians, Dundalk, UCD and, finishing his League of Ireland career, at Cabinteely FC.
Former Republic of Ireland international Jason Byrne enjoyed a year at Championship club Cardiff City; he has five League of Ireland Premier Division titles to his name and has won both the FAI and League Cups as well as the Setanta Cup.
Jason was named PFAI Player of the Year in 2003 and 2004 and has the great distinction of being the second-highest goalscorer in the history of League of Ireland with 222 goals.
Cabinteely FC managers, coaches, volunteers and players extend a huge welcome to Jason and look forward to working with him in the coming season.
Pat Devlin, Cabinteely FC Director of Football and First Team manager said "We welcome Jason's appointment. He has a wealth of experience to pass on to our members. He is a great addition to our staff."
Two-time PFAI Players' Player of the Year Jason Byrne on his appointment said "I'm really looking forward to returning to Cabinteely FC in my new role as Coaching Coordinator. I welcome this opportunity to be part of one of the best and biggest football clubs in Ireland and to develop and progress football within a very well-established coaching team. I look forward to meeting everyone, from small to tall."
Looking forward to hitting the heights with Jason!