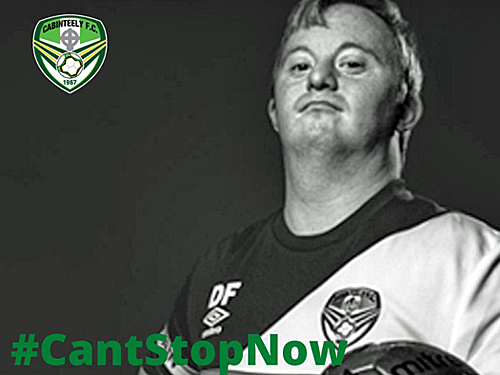 No way to stop Damien and friends!
Their buckets can't work, but you can make a difference!
You will probably have heard by now that Special Olympics Ireland can't undertake their annual 'bucket appeal' on our streets this year, given the current pandemic – yet another way of the many in which our lives have been adversely affected during 2020.
However, there's a way in which we all can help them through these challenging times – even from the comfort of your own home while you have to stay in.
Tommy and Damien Flynn (above), long-standing stalwarts and stars of our own Football For All programme have asked us to appeal to members and friends to make a quick trip to the Special Olympics '#cantstopnow' on-line appeal as they strive to replace their traditional fundraising methods.
Do visit the page now, read about Damien (scroll down) and his Special Olympics colleagues and then hit that donate button without delay.
Tommy, Damien and their sporting colleagues are waiting to hear from you!