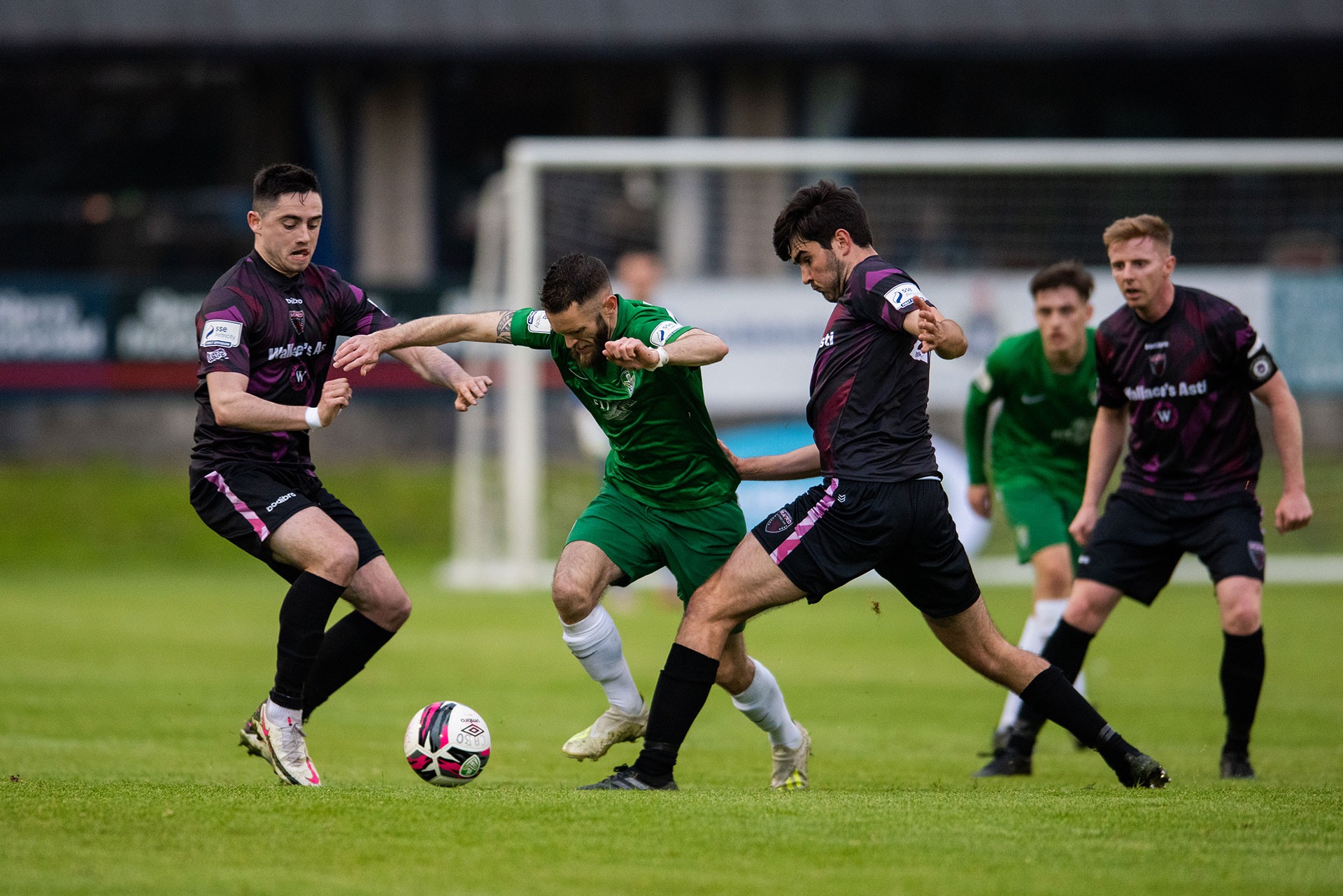 Match Report – Cabinteely FC 0; Wexford FC 2.
By Kevin Dooney
Cabinteely FC 0 Wexford FC 2
Cabinteely can feel hugely unlucky to have found themselves at the receiving end of Wexford taking their first points of the season.
After a damp day, the away started proceedings at Stradbrook under grey skies and were caught in a storm of controversy after just 3 minutes.
Dan Blackbyrne's long throw in, which caused trouble all evening, was flicked on by Jem Campion and Luke McWilliams in the visiting box before coming towards Kevin Knight at the back post.
As Knight went to retrieve possession in a dangerous area, Jimmy Corcoran scrambling from his goal line, looked to have hacked down Knight from behind.
Referee Robert Dowling's decision to point for a goal kick, clearly indicating Corcoran made no contact with the ball, brought much confusion to those on and off the pitch.
The Slaneysiders were quick to capitalise on the referee's leniency when just minutes later, link-up play from former Cabo men Karl Manahan and Paul Fox saw Fox deliver a tantalising ball into the box.
The cross was met by the head of Kyle Robinson who did very well to head across Harry Halwax to break the deadlock.
On 13 minutes, Wexford tried to get the referee's attention for a penalty appeal of their own as Kyle Doherty attempted to fall into Luke McWilliams in the Cabo box. Dowling correctly ignored the complaints on this occasion.
Cabo were once again on the receiving end of the match official's reluctance to blow his whistle when Marty Waters appeared to be tripped by Luke Turner in the box – yet again the referee was uninterested.
Wexford did produce other threatening moments in the first half but were outwitted by Vilius Labutis who always found himself in the right position to clear off the line. Halwax also showed a combination of sharp reflexes and using the full extent of his frame to make some great saves.
Cabinteely emerged for the second half with extra spring in their step and were nearly rewarded within a minute of kick-off. Kevin Knight acted quickly off a free kick to find Keith Dalton. His cross was pinpoint accurate onto the head of Green Line graduate Campion who was very unlucky to see his header roll just inches wide.
While Wexford sought to make use of counter attacks to soften Cabo's renewed vigour, they were foiled once more by Labutis who was well positioned to single handily break up a five-man counterattack.
On 57 minutes, Knight rose highest from a Dalton corner as he tried to replicate his goal scoring performance from the opening night of the season. His header could only find the post, and in the follow up Luke McWilliams was just unable to convert the rebound.
Cabo's resolve was finally broken just after the hour mark when in the second wave following a corner Robinson, who appeared to all in attendance but the linesman to be offside found himself one on one with Halwax.
Not surprising given his head start, he was able to square to an open Jack Doherty, also slowly retreating, who could head home and celebrate while 11 Cabinteely players making justified complaints were ignored.
With such spirit crushing decision-making, Cabo fought valiantly to get back into the game but were unable to do so despite many attacking substitutions.
A brief glimmer of hope was granted on 73 minutes when Paul Fox's return to Stradbrook was ended early as he saw a second yellow after a clumsy challenge in the corner.
As much as Cabo bravely pushed for an equaliser, they were unable to break down a Wexford defence well marshalled by the experienced Lorcan Fitzgerald, who has recently been installed as a player coach in the South-East.
Cabo head to a well-earned mid-season break still pushing for the playoffs and have the added excitement of fans being allowed to attend their next fixture versus Cork at Turner's Cross as a trial event in football's return to normality post Covid-19.
Cabinteely FC: Harry Halwax; Kevin Knight, Dan Blackbyrne (c), Mitchell Byrne (Niall Barnes 55'); Luke McWilliams, Zak O'Neill (Luke Clucas 75'), Alex Aspil, Vilius Labutis (Ben Hanrahan 75'), Keith Dalton (Eoin Massey 67'); Kieran Marty Waters, Jem Campion (Jordan Payne 55')
Subs not used: Kajus Aksamitas, Conor Knight, Lloyd Buckley, Jack O'Reilly.
Booked: Kevin Knight (64), Jordan Payne (69), Eoin Massey (83), Marty Waters (88).
Wexford: Jimmy Corcoran; James Carroll, Lorcan Fitzgerald, Luke Turner; Paul Fox, Karl Manahan (c) (Jack Larkin 85'), Jack Connolly (Kevin McEvoy 81), Conor Crowley, Paul Cleary; Kyle Robinson (Evan Farrell 67'), Jack Doherty (Charlie Smith 75')
Subs not used: Sean Martin, Karl Fitzsimons, Success Edogun, Harry Groome, Anto Dolan
Booked: Kyle Robinson (19), Conor Crowley (41), Paul Fox (49), Jack Doherty (70), Jack Connolly (73), Paul Fox (73).
Sent off: Paul Fox (73).
Referee: Robert Dowling.
MintPlus.ie Man of the Match: Harry Halwax.