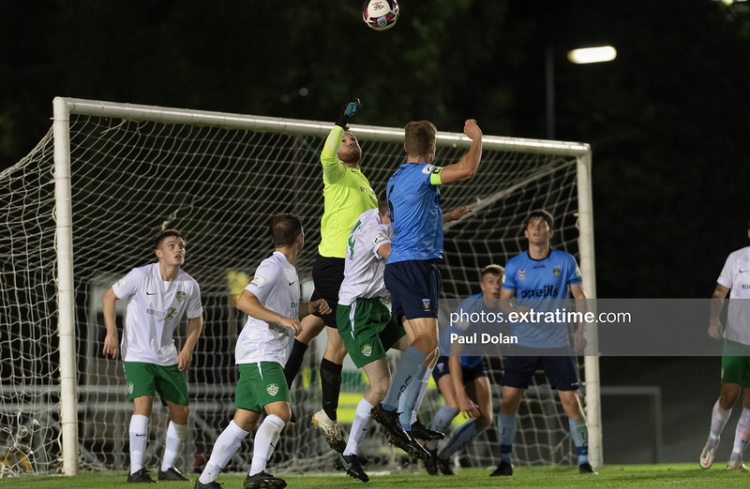 Match Report – UCD AFC 5 Cabinteely FC 2
What are three points compared to the joys of taking an early lead and witnessing the next potential star score a wonder goal, for his second in three games.
While Cabinteely may have left the UCD Bowl empty-handed on Friday night, there are still many positives to take from a fixture that was always acknowledged as an uphill task.
With no pre-match protests on this occasion, the visitors got right into the action. Phones were abuzz in shock after five minutes when the visitors took an unlikely lead as those not in attendance struggled to get a reliable connection to the stream in far-off places.
GreenLine graduate Jack O'Reilly took no time settling into his full Cabo debut as Mitchell Byrne met his in-swinging corner at the near post and left Lorcan Healy stranded as the ball nestled into the side net.
Facing the highest-scoring team in the First Division, the task of holding onto a one-goal lead was always going to be precarious and the Students were almost level on 13 minutes when Liam Kerrigan's shot was parried by Adam Hayden into the path of Colm Whelan who could only shoot wide. The miss was an uncharacteristic miscue from the Division leading scorer who found the net for Ireland's U21's during the week.
Whelan made no mistake on 24 minutes however when referee Alan Patchell awarded a penalty for Jack Hudson's challenge on Kerrigan. Whelan emphatically finished to the keepers' left.
Cabo found themselves behind within a minute of the restart when Kerrigan once again got in behind the backline after a quality pass from Paul Doyle. The right-winger calmly slotted the ball past Hayden.
After the quick one-two punch of Kerrigan and Whelan left Cabo reeling, they held out to half time and throughout the beginning of a sloppy second half where neither side could control the game.
It wasn't until the 69th minute that UCD finally wrestled full control of the game from their determined guests. The ball went from Whelan to Doyle who was once again able to pick out Kerrigan in space and the Sligo man hammered the ball across Hayden to give some breathing space.
The match was put further out of reach when Jack Keaney curled a free-kick into the top left corner five minutes later to give the Students a three-goal lead.
Cabo weren't done yet though. After Jem Campion's teasing ball sailed over the box right to left, a determined Ben Feeney kept the ball alive before playing a one two with Kevin Knight on the left flank. Feeney drove infield and from beyond the corner of the box unleashed a right-footed rocket into the top corner of the net. Now that the young man has found his sight for goal – Cabo fans can only hope it becomes a regular occurrence.
Not to be outdone Kerrigan completed his hat trick on 80 minutes when Cabo failed to clear their lines and he was able to swing his foot at a loose ball in the box and restore the three-goal cushion.
The visitors continued to push for more goals and a way back into the game but ultimately, they were fighting on in vain.
Cabo now sit eighth in the table; but with Green Line graduates coming through in abundance to influence the side – there is plenty of promise for the future.
UCD: Lorcan Healy; Evan Osam, Sam Todd, Harvey O'Brien (Harry McEvoy 80), Evan Weir; Liam Kerrigan, Paul Doyle, Dara Keane (Adam Verdon 66), Jack Keaney (Eoin Farrell 80), Donal Higgins (Evan Caffrey 72); Colm Whelan.
Subs not used: Carl Williams, Luke Boore, Michael Gallagher, Mark Dignam, Sean Brennan.
Booked: Jack Keaney (14), Paul Doyle (78).
Cabinteely: Adam Hayden; Daniel Blackbyrne Mitchell Byrne (Niall Barnes 74), Kevin Knight, Jack Hudson (Jem Campion 56); Keith Dalton, Zak O'Neill, Vilius Labutis (Jack Watson 56), Eoin Massey (Conor Knight 83), Jack O'Reilly (Oran Molony 74); Ben Feeney.
Subs not used: Harry Halwax, Alex Aspil, Dan Tobin, Sean McDonald.
Booked: Vilius Labutis (34), Kevin Knight (45), Eoin Massey (79).
Referee: Alan Patchell.
Report by Kevin Dooney.
Pictures by Paul Dolan.