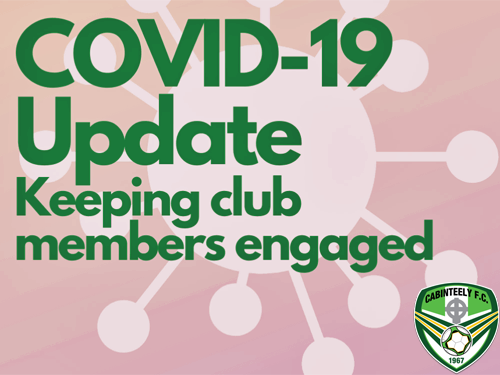 News update and MWC changed
Club news – good and bad as we look forward
Dear Cabinteely FC Member,
We hope you are safe and well in these difficult times for our members and our community.
We would like to assure you that the board and the executive are meeting on-line regularly to ensure that the operations of the club continue to function, so we are ready to go once football activity is given the green light to resume. The club has had to make some difficult decisions to reduce costs during this time however we still have financial commitments and obligations which need to be met.
Our aim always is to ensure that the club remains sustainable, not just now, but also through the difficult 12-18 months ahead. We believe that, with the deeply valued co-operation and support of our members, sponsors and the broader community, we can come out of this crisis on a solid and successful platform for the future.
We have been working closely with our club sponsor EduFit and through them, we recently launched a broad range of online training courses to help our members upskill during these uncertain times. We hope this initiative will make a difference to families and individuals alike. The registration page for this is located here.
https://www.dlrcoco.ie/
We have also received some good news with the repair and handover of the pitches that were extensively damaged by vandals earlier this year. We thank Dún Laoghaire Rathdown County Council for their co-operation and support in getting this work done so quickly.
We are working with the managers of all our teams on initiatives to keep our players healthy, active and engaged with their teammates. We will continue to post activities and updates through our social media channels and through the managers directly.
Planning for our flagship annual Mini World Cup event continues apace. As mentioned in our previous mail, given the current circumstances we are moving away from holding registration days and, with the help of EduFit, our on-line registration platform is almost ready.
Unfortunately, our usual MWC dates of the first two weeks in June will not be possible this year, so are now planning on hosting the event in the first two weeks of August, with backup dates of the first two weeks in September. We will not launch registration until we have a stronger indication of the feasibility of these dates. We all look forward to the event this year more than ever as the sight of over 1,000 children outside playing football with their friends will be a tonic to all.
While progress has understandably slowed, we are continuing to work with the County Council and our neighbouring clubs in the park on projects aimed at improving the physical and playing facilities for all members.
These are unprecedented times. We wish you and your family continuing good health on a constant basis. Please stay safe, follow official guidelines, keep your distance and wash your hands! We look forward to getting back to football soon, when it is safe to do so.
Best wishes,
The Board & Executive of Cabinteely FC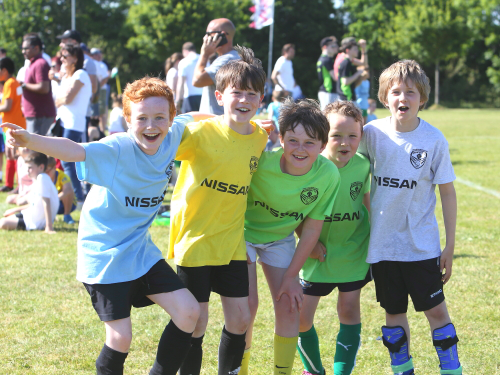 Despite the virus, there's a lot going on behind the scenes!