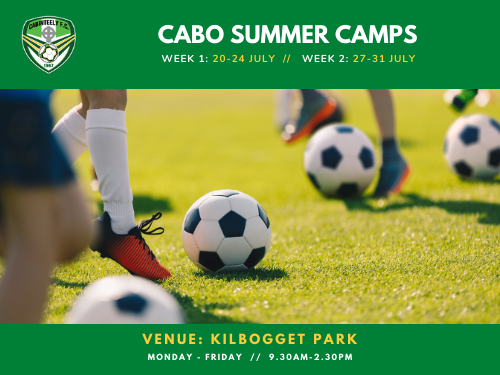 Celebrate football with a Cabo Camp
Time to get kicking balls together once again!
After that long and solitary effort that we all had to put in over the past few months, including all those great solo training sessions as witnessed in our social media threads, it's time to gather in Kilbogget and join one of our great and widely-renowned Cabo Summer Camps.
Yes, if you're one of the lucky ones born between 2007 and 2014, you're eligible to come along, display all your well-practised skills and join in some wonderful coaching during the last two weeks in July.
Our qualified and well-seasoned coaches will ensure that all players, limited to 80 in number each week, will learn and fine-tune their ball skills as they have fun in the (hopefully) sun as we all blow off all those COVID cobwebs and get to stretch our legs somewhat!
Of course, all relevant anti-COVID protocols will apply throughout, so we'll ask that everyone co-operates with all instructions in this regard. No exceptions will be allowed. Detailed Camp and COVID-related instructions will be provided to all registered participants in advance.
Camp Details
Venue:
Kilbogget Park
Week 1:
July 20-24 (five days)
Week 2:
July 27-31 (five days)
Times:
9.30am to 2.30pm each day
Cost:
€90 per child per week, with a €20.00
discount for a second week or a sibling
Open to:
Allcomers, boys and girls, ages 6-13, (born 2014-2007)
Bookings:
On-line ONLY – here
So don't waste any time if you'd like to join in the fun and you want to be in that lucky cohort of 160 young attendees –
click/select here to book
.
For any query, call the office on 086 831 8000 without delay.
This will certainly be a set of sessions to savour!