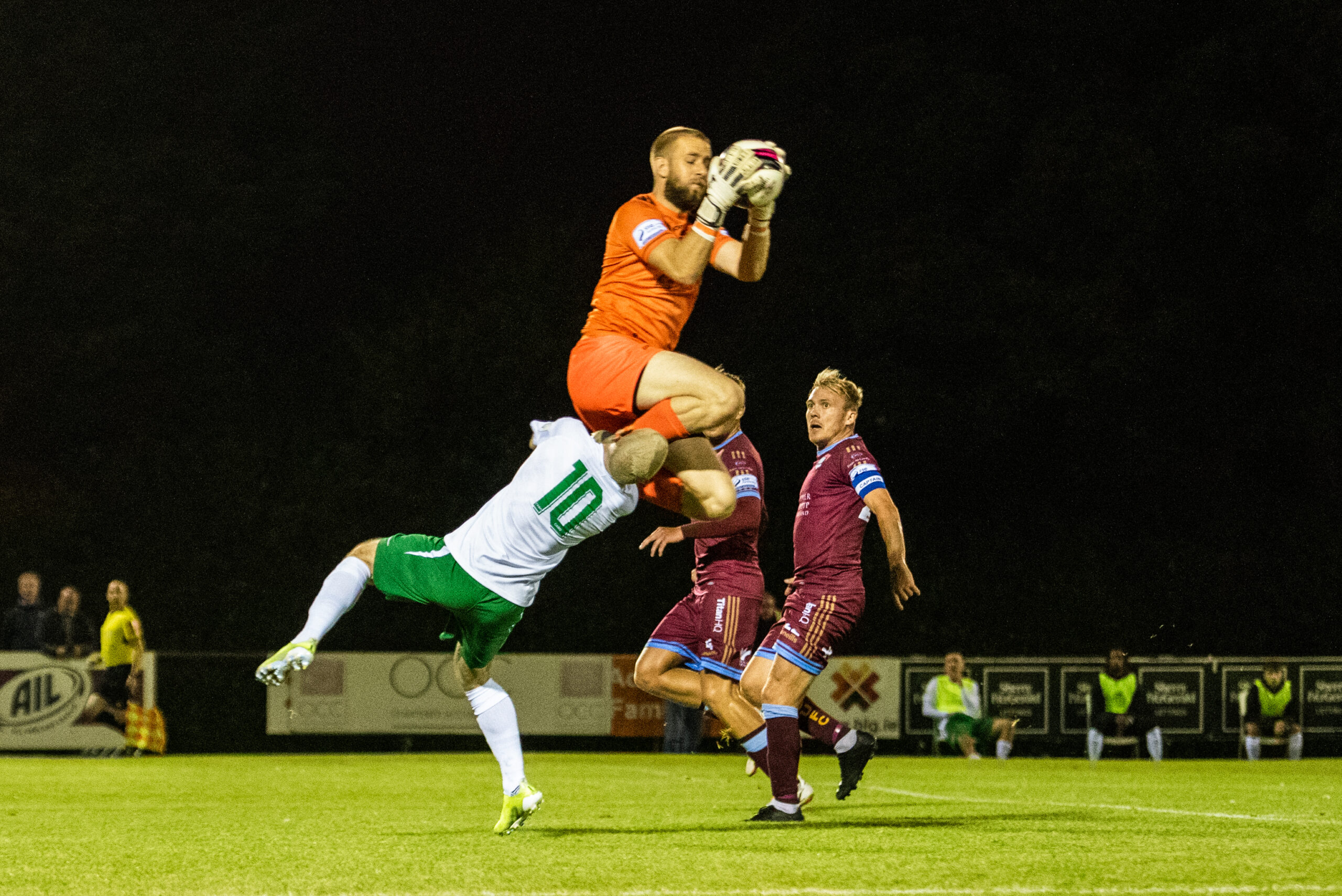 Match Report – Cabinteely FC 0 Galway United 1
It is rare that football fans have to witness a figurative and literal kick in the head on the same evening, but such was the fate of Cabinteely fans on Friday evening.
Before any description of events at Stradbrook, all thoughts must go to record goal-scorer Kieran Marty Waters who once again put his body on the line for his team only to be on the receiving end of Galway goalkeeper Conor Kearns' high leg in the 72nd minute.
Waters thankfully returned to his feet and walked off under his own power after many worrying minutes on the field. We can only wish him a speedy recovery and hope to see him back playing as soon as possible.
With both teams not in action during last week's cup fixtures, the game was slow to get going. The home sides best moment came on 19 minutes when Kearns failed to claim a cross and was brought down by his own man. Luke McWilliams claimed the ball at the far post but Joe Gorman was in place on the Galway line to clear his chipped effort.  
A more speculative chance fell on 26 minutes when Waters launched a swerving long-range effort that Kearns could only fumble out for a corner.
The rest of the half remained a cagey affair, as Cabo looked comfortable putting it up to second placed Galway.
The Tribesmen emerged a different team in the second half, no doubt energised after some choice words from manager John Caulfield, who would not have been impressed with his side's first half showing.
Despite more energy from the visitors, the half still lacked clear chances and it was little surprise the breakthrough came from a set piece. After a rash challenge from Eoin McPhillips on the left touchline Galway were given a prime opportunity to cause trouble.
The short free kick came to Mikie Rowe whose low effort seemed tame but rolled casually into the bottom corner of Harry Halwax's goal untouched to give the visitors the lead on the 58th minute – albeit with a strong hint of offside.
The White and Green's task was made more difficult just ten minutes later when McPhillips once again came to the referee's attention after a heavy tackle. He was awarded a second yellow and an early shower for his effort leaving his team to continue the rest of the contest with ten men.
Galway's numerical advantage was short-lived after Kearns was dispatched for his challenge on Waters.
Captain Keith Dalton stepped up to take the resulting penalty; but his effort was at a comfortable height for substitute goalkeeper Luke Dennison to save with his first touch in a United shirt.
The twenty players remaining on the pitch struggled to bring the game back under any form of control after the chaotic twenty minutes that had happened.
Galway looked to see out the result and Cabo struggled to create many chances to break down the visitors.
The game played out to its conclusion with home fans once again wondering what might have been as a solid first half performance results in a one-goal defeat.
Next up Cabo face the unenviable task of having to face UCD at the Belfield Bowl without their record goal scorer in their team.
Cabinteely: Harry Halwax; Zak O'Neill (Dean Casey 81), Dan Blackbyrne, Jack Hudson, Luke McWilliams (Mitchell Byrne 54); Keith Dalton (Conor Knight 90 + 4), Eoin Massey, Vilius Labutis, Ben Feeney; Kieran Marty Waters (Oran Molony 76); Eoin McPhillips.
Subs Not Used: Adam Hayden, Dan Tobin, Jamin Nwanze, Jack O'Reilly, Jack Watson.
Booked: Eoin McPhillips (58), Vilius Labutis (68), Dan Blackbyrne (90).
Sent Off: Eoin McPhillips (66).
Galway United: Conor Kearns; Alex Murphy, Gary Boylan, Joe Gorman, Conor O'Keeffe; Ruairi Keating, Mikie Rowe (Luke Dennison 76), Killian Brouder, Conor McCormack; David Hurley (Christopher Horgan 90 + 4), Wilson Waweru (Padraic Cunningham 86).
Subs Not Used: Dean O'Shea, Mikey Place, Colin Kelly, Caoilfhionn O'Dea, Stephen Walsh.
Booked: Conor O'Keefe (60)
Sent Off: Conor Kearns (72)
Referee: Eoghan O'Shea
Report by Kevin Dooney.
Photographs by Alex Connolly.