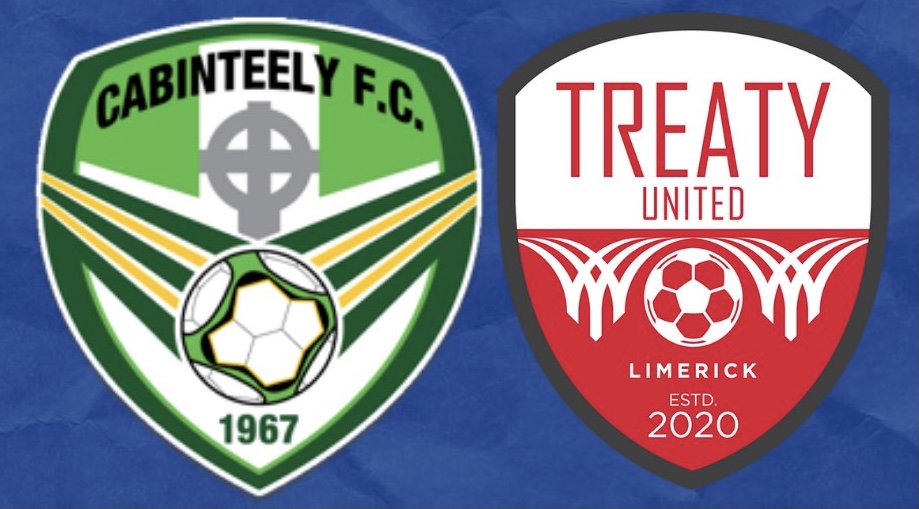 Match Report – Cabinteely FC 0 Treaty United 2
It is hard to think that ten minutes of play could sum up a full season of football but the closing stages at Stradbrook on Friday night did just that.

The match started as the rain fell with the atmosphere very suitable for an end of season dead-rubber as where Cabo finished in the table was academic while Treaty had already secured their play-off status the previous week.

There were little by way of chances in the opening half with United's Kieran Hanlon finding himself in the best position of the period – only to send the ball onto the clubhouse roof from 15-yards out.

The hosts did have moments of their own with Keith Dalton looking threatening on the right wing, while Ben Feeney remained a threat shooting from distance.

The away sides breakthrough came just after the hour mark when substitute Willie Armshaw made an instant impact. He received a throw-in immediately after his introduction and cut in from the left before striking from outside the box into the bottom right corner.

The home team were once again faultless in their efforts but could not find a leveller despite long-range efforts from Niall Barnes and Feeney testing the Limerick outfit's custodian Tadgh Ryan.

With five minutes of normal time to play, Cabinteely were pushing for an equaliser. Eoin Massey was bundled over in the box after a short corner only for referee Oliver Moran to wave away any appeals. A challenge that Director of Football/First team manager Pat Devlin described as "the most blatant penalty I've ever seen in my life."

Undeterred by refereeing decisions, Cabo pushed to get back in the game and threw everything at the visitors.

Sean McDonald came closest just as the fourth official indicated four minutes of added time when Dean Casey's cross was almost turned in, but Ryan was able to get himself in the way from point blank range.

With one last throw of the dice, Adam Hayden came up from his goal to try salvage something from the disappointing season. As the throw-in was scrambled clear, Cabinteely were dispossessed leaving Josh Quinlivan to break on an open goal.

Despite a last-ditch challenge from Dan Blackbyrne the Treaty man was able to roll the ball slowly toward the empty net.

The line crossing was greeted by wry smiles from Cabo fans for what a fitting ending it was to the year as Oliver Moran ended the match with Treaty still celebrating on the pitch.

All involved with the club can take solace that this most testing of seasons is finally over with plenty to look forward to for next year.

The Green Line continues to produce talent for Pat Devlin to pick from and with new chairman Tony Richardson now in place there was a sense of optimism around the club as the end of season awards were handed out.

Cabinteely: Adam Hayden; Jack Hudson, Dan Blackbyrne, Jamin Nwanze, Mitchell Byrne (Sean McDonald 80'); Niall Barnes, Eoin Massey (Conor Knight 86'), Eoin McPhillips, Ben Feeney, Keith Dalton (Dean Casey 86'); Destiny Idele (Sean McLean 71').
Subs not used: Harry Halwax, Luke McWilliams, Dan Tobin, Jack O'Reilly, Adam Moore.

Booked: Destiny Idele (60'), Dan Blackbyrne (83')

Treaty United: Tadgh Ryan, Charlie Fleming, Clyde O'Connell (Joe Collins 46'), Kieran Hanlon (William Armshaw 61'), Alan Murphy, Sean Guerins, Joel Coustrain (Josh Quinlivan 89'), Stephen Christopher, Dean George, Mark Walsh, Jack Lynch (Sean McSweeney 46')
Subs not used: Adam Gallagher, Sean McCormack, Matt Keane.

Booked: Sean McSweeney (83').

Referee: Oliver Moran.

Report by Kevin Dooney.