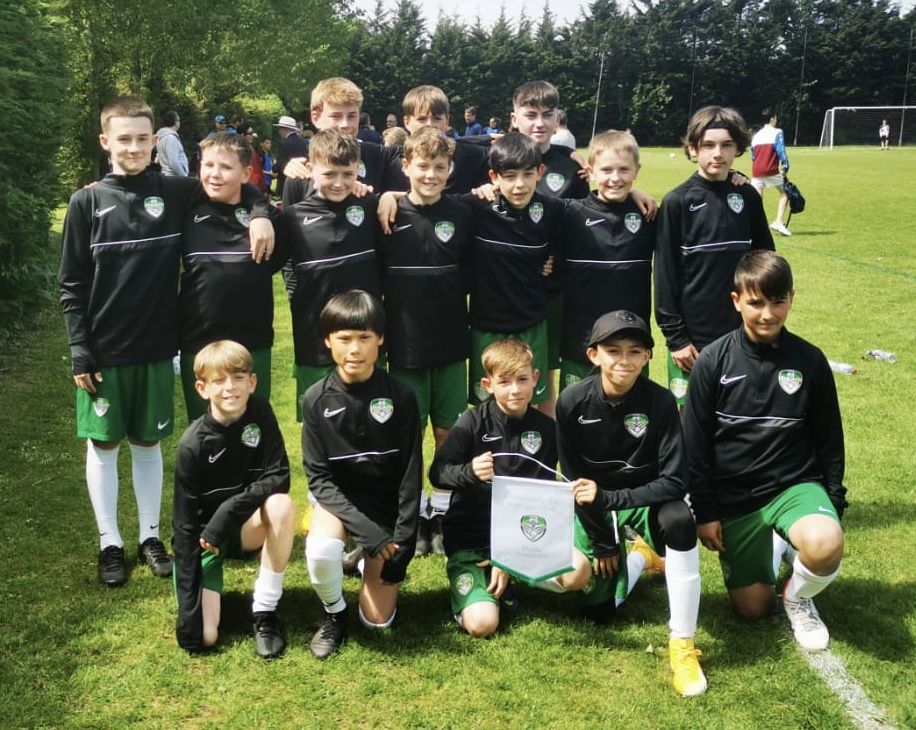 Match Report – DDSL PTSB U13 Cup Final – Cabinteely FC 2 Finglas Celtic 0
Sunday's Cup Final brought together the two best teams in the League as Cabinteely faced Finglas Celtic in the DDSL U13 decider in a sun drenched AUL Complex.

The pitch was like a snooker table and allowed both teams to play some lovely passing football.

The first half was evenly balanced with few chances created. Evan Groarke caused the Blue and Yellow's trouble down the right wing, with Finn Brennan doing likewise on the left wing.

Cabo's Keeper, Cian Hapil was called into action and made a top quality save to keep the score level.

It turned out to be a pivotal moment as from the resulting corner, The White and Green's broke away. Oliver Ormsby played a defence splitting pass to release Jayden Knight. Still with work to do, Knight's finish was pure quality.

Great defending by Jamie O Brien, Ciaran Brady and Rocco Rea ensured that Cabo led at half time.

The second half started with Finglas on the front foot. Olan Callan Mooney and Robbie Young were very solid and Josh Holland and Jacob Kratkiewicz kept the poposing wingers quiet.

Sam Balfe brought a lot of energy on the right hand side and linked up well with Glen McDonald. Jamie O'Brien was making some clever passes and Cabo started to take control.

Their good play was finally rewarded with a great run by Ormsby down the left wing reminiscent of a younger Ronaldo!!. He was entitled to shoot himself but picked out McDonald in a better position for a tap in.

At last the travelling supporters could relax. Brennan – who ran tirelessly all day was given a breather – and soon after the referee blew the final whistle.

Celebrations were respectful to their opponents who played their part in a wonderful game.

A great win for this wonderful group of players and Coaches as they bring the Cup back to Kilbogget Park.