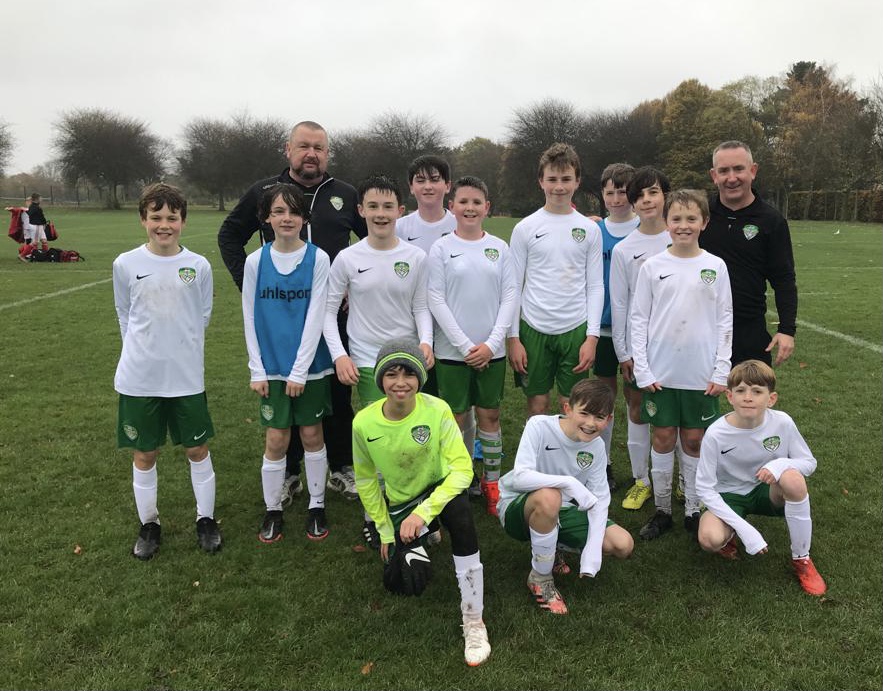 Match Report – DDSL U13C1 – Tolka Rovers 1 Cabinteely FC 2
Cabinteely maintained their unbeaten league record this season with a hard-fought victory on Saturday away against Tolka Rovers.
Second half goals secured the points for the White and Greens at Johnstown Park. 
The pitch was like a snooker table, perfectly manicured and made playing football a lot easier for both teams.
The away side started well and played some lovely intricate football – with the home custodian making two brilliant saves.
But hosts also had chances too with the covering Robbie Young brilliantly clearing a goal-bound shot with his head. 
The second half was very tight and both netminder's were called into action.
A brave save by the Rovers goalkeeper from Alvaro Canas Poza was followed soon after at the other end by the Cabo number one Cian Hapil touching a cracking shot onto the crossbar. 
Tolka were getting on top but Jamie O'Brien made a couple of crucial tackles to keep the scores level.
In a tactical change for the visitors, Josh Holland was moved into central midfield and brought some much needed energy. 
The dead-lock was broken in Cabo's favour by Oliver Ormsby's strike from the edge of the box that took a deflection and flew into to the net.
However, the home outfit never gave up and deservedly equalised soon after as a long ball – for the first time in the tie – was not dealt with by the opposition defence.
Tolka had hardly finished their celebrations before Cabo went 2-1 ahead.
Sone great approach play and link-up by Canas Poza put Jayden Knight clear to calmly slot to the net.
Tolka had one final chance before full-time from a corner but headed wide off target.
The 'game of the season' was the consensus on the sidelines on the final whistle, with two evenly matched teams giving their all.