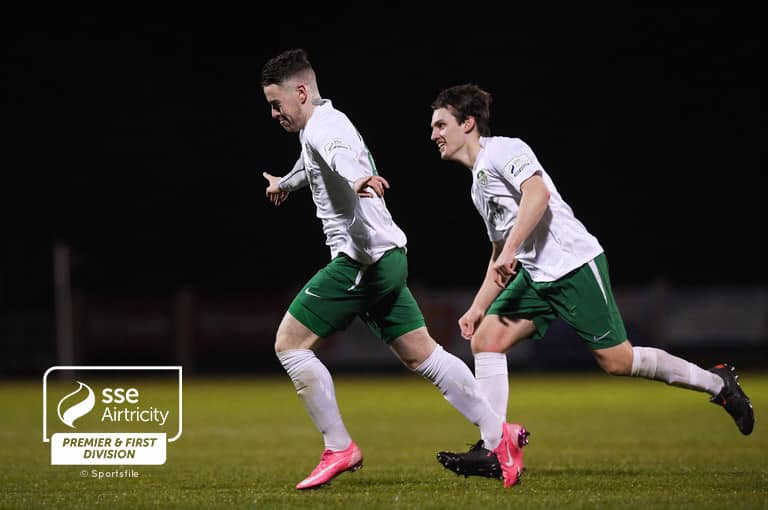 Match Report – Wexford FC 1 Cabinteely FC 2
WEXFORD FC 1
CABINTEELY FC 2
Pre-match talk of Dean Casey flying in pre-season proved to be no exaggeration as the winger's left foot guided Cabinteely to a 2-1 victory away to Wexford on Friday night.
On a bitter evening in the South-East at Ferrycarrig Park, Cabo took little time to warm-up – registering four corners in the first eight minutes.
Keith Dalton and Casey took turns peppering the Wexford box from left and right respectively as the visitors looked a constant threat.
This threat came good in the ninth minute as Casey's in-swinging corner found Kevin Knight's head at the back post. The skipper's downward header reached the net over the head of the covering Wexford defender standing at the upright.
The away team – in the new Nike home white kit for the first team since linking up with Club Sport Ireland – gave full debuts to new signings goalkeeper Adam Hayden, defender Andy O'Brien, and striker Sean McDonald with all three impressing.
The Slaneysiders responded well after the shaky start and had a few minutes very much in the ascendency resulting in multiple corners as Cabo players threw themselves in front of successive shots; leaving debutant keeper Hayden with little to do.
The game settled after its frantic first third as the White and Green's continued to use corners as their main form of attack without really threatening the home goal.
Cabinteely started the second half in a similar vain to the first with corners coming thick and fast after the restart.
Defenders again proved threatening as Andy O'Brien, filling the tall man number five role vacated by Conor Keeley, could only find the post with his header while Knight also headed against the bar.
Cabo again struck the goal-frame on 50 minutes, only this time Casey's thunderous 30-yard free kick came off the inside of the post and made its way past keeper Tom Murphy.
The two-goal cushion was short lived as set pieces again showed their importance in this Division with Wexford defender Luke Turner getting his head on the second ball from a corner near the hour mark to set up a cagey last half hour.
Cabo's good fortune appeared to be running dry as Wexford once again applied the pressure and the referee Mark Moynihan booked sub Alex Aspil (who had replaced an injured Eoin Massey in the first half), despite the midfielder seemingly making solid contact with the ball.
The Dubliner's continued to show promise though, racking up their 14th corner of the night on seventy minutes.
Soon after, Kieran Marty Waters showed skills reminiscent of winning the 2017 PFAI First Division Player of the Season award as he skipped past several defenders only to unselfishly attempt a failed square ball. Wexford were again under pressure as keeper Tom Murphy kick out rebounded off his own defender and fell to the feet of Waters. He squared to Aspil who teed-up Casey only to find the side netting from the resulting play.
Cabo rejuvenated tired legs with a triple substitution, seeing two more players – Niall Barnes and Jordan Payne – make their competitive debuts in the final ten minutes.
Wexford created chances but failed to truly test Hayden as Cabo held out for a deserved but nervy 2-1 victory.
Cabinteely end the first night of fixtures top by the width of a wide vowel from Cork City who they will face next Friday (April 2nd) in Stradbrook as they seek to make Good Friday a Great Friday.
CABINTEELY FC: Adam Hayden; Dan Blackbyrne, Andy O'Brien, Kevin Knight; Eoin Massey; Keith Dalton, Zak O'Neill, Vilius Labutis, Dean Casey; Kieran Marty Waters; Sean McDonald.
SUBS; Alex Aspil (for Massey 40 mins), Jordan Payne (for Casey), Niall Barnes (for Kieran Marty Waters), Mitchell Byrne (for McDonald) (all 80 mins), Luke Clucas, Luke McWilliams, Deane Watters, Kieran Butler, Harry Halwax (all not used).
WEXFORD FC: Tom Murphy; Luke Turner, Paul Cleary, James Carroll; Karl Fitzsimons, Karl Manahan, Conor Crowley, Alex O'Hanlon; Kyle Robinson, Harry Groome, Paul Fox.
SUBS: Jack Doherty (for Crowley 66 mins), Success Edogun (for Robinson 80 mins), Jack Connolly (for Manahan 86 mins), Jimmy Corcoran, Jack Larkin, Daniel Dobbin, Evan Farrell (all not used).
REFEREE: Mark Moynihan.