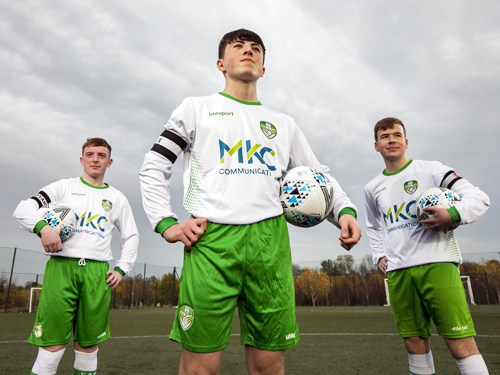 New sponsor announced for U-16s
Tim and MKC ensure that the U-16s are looking well!
We're delighted to announce a new sponsor for our three DDSL U-16 teams, with long term supporters MKC Communications, a leading Irish public relations and public affairs firm, coming aboard (pictured above at the recent presentation in the new jerseys sponsored by MKC are U-16 captains Evan O'Connell, Luan Moloney and Sam Kelly, representing the 50 players across all three squads).
To announce the sponsorship, members of our U-16 squads were joined by Tim Kinsella, Managing Director of MKC Communications, who presented the 50 new jerseys. Tim is also Age Group Co-ordinator of our U-16 teams.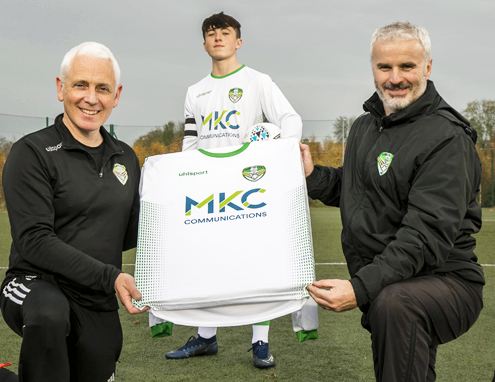 Together with our other age groups, the U-16s have been continuing their training under club and FAI COVID protocols with a dedicated team of voluntary coaches including Shane Lauritsch, Matthew Tappin and Conor Geoghegan (DDSL U-16 Premiers); Gareth Kelly and Gary Kinsella (DDSL U-16A) and Tim Kinsella and Trevor Johnston (DDSL U-16C); they've all been having excellent attendances every evening. Even though matches can't yet take place, the lads will certainly be well prepared when the season restarts in due course.
"We've a fantastic team of volunteers, players, parents and supporters in our U-16s group and many of our players have been with us since they were youngsters in the Cubs and Kittens Academy," said Tim. "This is replicated at every age level of the club with football for all 'from small to tall', including an onward pathway into the SSE Airtricity League of Ireland, across junior and senior levels which is a great credit to the club."
"Then you have the management and administration of the club, also supported by volunteers at every level. It's a huge effort which benefits everyone across our community and that's why we're delighted to support all of these initiatives with sponsorship. Supporting a club like Cabinteely FC has long term positive effects which carry through over many years, benefiting the health and wellbeing of generations of young people through football. There are many parents and supporters in the club whose businesses may also be able to get involved and I'd certainly encourage them to do just that."
Michael Galvin said, "This is a great new sponsorship by MKC Communications who are long term supporters of the club, including our annual Mini World Cup, for over a decade. There is a great energy across our club, in spite of the current pandemic crisis, where everyone at Cabinteely FC is committed to supporting our young people as much as possible through fitness and football. The new kit we have received makes a big difference and will be used by players for years to come. This is one of many potential sponsorship opportunities that we have open for people to support football across every age group. As we see with our U-16s, it can make a great difference for our players and helps to support the organisation of the club which has a considerable range of facilities and expenses to manage on an ongoing basis."
There's a wide range of sponsorship packages available to suit all budgets. If you'd like to get involved, please contact Gill Waters on 086 248 2364 or by email, or ask your team manager to let us know and we'll contact you.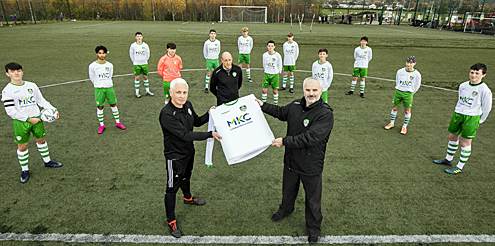 Tim Kinsella (l) presenting the jerseys to Michael Galvin (r), Cabinteely FC Executive Committee Chair, with U-16s coach Trevor Johnston (centre) and (l-r) players Luan Moloney, Kush Nagpal, Romano Borza, Tom Demichel, Adam McNamara, Cameron Holland, Jade Kendrick Doyle, Leo Johnston, Finn Redmond, Alexander Kinsella, Max Bradley and Sam Merren, representing the 50 players across all three squads.
Here's hoping that the U-16s will be dazzling on field soon!